Confederate States Notes With Engravings of Ships and Naval Subjects
C.S. NAVY Research Center, Mobile, Alabama, www.csnavy.org
The numbers refer to Grover Criswell's book on Confederate Paper Money.
The ones with pieces cut out in various shapes are called punch cuts and are redeemed. That is how they were cancelled.
Some good research would be to find out which ships are used. More information will be provided as time is available.

^Type 26 with lady on a ship^ ^Type 9 with two triangle punch cuts^

^Georgia State note^ ^Type 44 with Lucy Holcombe Pickens^

^Type 31 Navigation with capstan & triangle punch cuts^ ^Type 18 Sailor at capstan and ship^


^Type 39 Locomotive with straight steam---note ship in background^

^Tennessee state note^ ^North Carolina state note^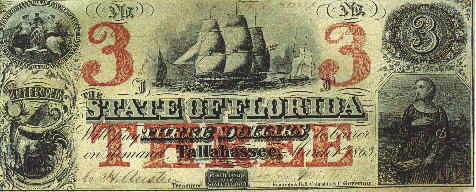 ^Florida state note^ ^Mississippi state note^
Courtesy Landis E. Patrick Courtesy Landis E. Patrick

^Type 37 Sailor seated in center, ship in background^ ^Type 45 Ship at sea and 'One' overprint^
Courtesy Landis E. Patrick Courtesy Landis E. Patrick

__________

^Type 40 Locomotive with diffused steam (ship in background) and 3 different interest paid stamps on back^
Copyright 1999, John E. Ellis. All rights reserved.
Return to the ASSORTED TOPICS page